Market surveillance - Transformers
Defining an effective compliance framework for authorities and manufacturers
The overall objective of the project activities was to clearly define the process and methodology by which market surveillance authorities (MSAs) can identify, select, and evaluate large, industrial products. The activities were divided into four inter-connected groups that are each essential for effective testing and evaluation of compliance. These Tasks form a work-flow that simplifies and streamlines market surveillance activities. These Tasks can generally be categorised as:
• Identification and classification of product types, and the related document requirements
• Evaluation and testing – the best strategy based on product classification
• Links with other legislation – can other legislation be enforced simultaneously to further reduce costs? Assessment of member state and European level legislation
• Building collaboration with MSAs and manufacturers – understanding how and when power transformers are produced, particularly looking how customised and unique products are procured and delivered.
A further INTAS action was designed to work throughout the project to ensure the availability and accessibility of manufacturing and laboratory facilities. Several manufacturers have expressed an interest in working with the project a priori willing to provide further data and input and opening their facilities to allow for onsite/in-situ testing.
Its role was to formalise and agree on specific terms and dates for such activities to take place. In terms of the project's overall objectives:
Help MSA's to develop an effective compliance framework based on the documentation and analysis of available information and including MSA cooperative activities.
Produce guidelines to help industry deliver compliance and help manufacturers to establish compliance assessment strategies that minimise disruption of market entry.
Derive alternative compliance measures for very large products (or others unviable to test).
Finally, these activities foster a common approach at European level, which addresses MSA methods and tests convergence as well as synergies by mutualizing the means of testing at EU scale.
Evaluation of compliance assessment methodology
The theoretical compliance assessment methodology at this stage will have been planned and tested in practice in accordance with the previous activities. It is vital at this stage to analyse the results of this assessment and ensure that the proposed methodology is valid and reliable, particularly in accordance with the regulation. In addition it is necessary to help clarify all the options and trade-offs that could be applied in a practical approach (such as for example screening techniques for products targeting) to compliance assessment in order to support the most effective allocation of MSA resources.
Pic.: INTAS flowchart for market surveillance procedure of large power transfrmers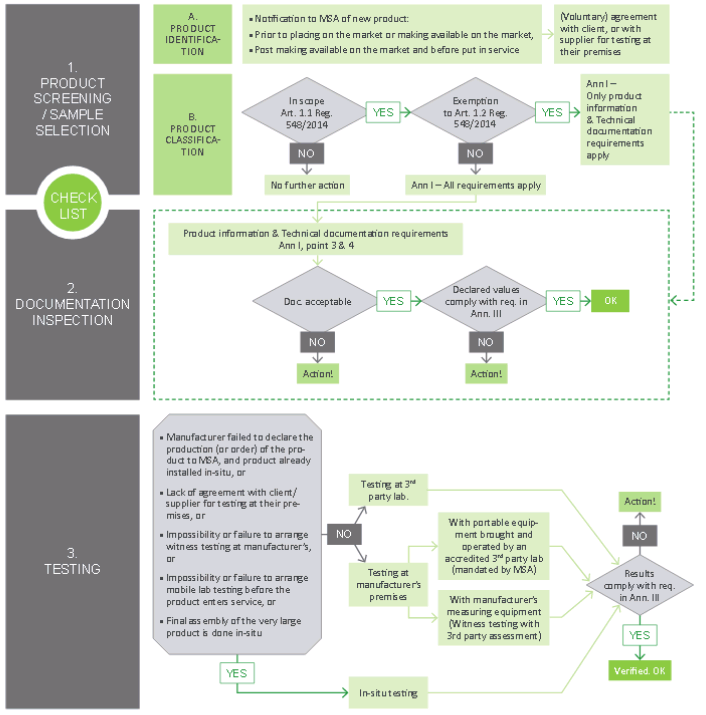 MSA collaboration and strategic capacity building
The objective in this area was to support strategic capacity building through:
Awareness raising and information exchange
Development of compliance verification screening tools
Fostering market surveillance collaboration between MSAs
Raising awareness of the value proposition of product energy performance market surveillance among key funders, decision makers and budgetary resource allocators
The project´s overall final methodology for the targeting and compliance verification of both fans and transformersis available ​here.​